HOME
> About Us/Visiting Guide
About Us/Visiting Guide
Clinic Information
Name of clinic
Minatomirai Eye Clinic
Director
Keiko Sakatani
Address
Queen's Tower C 8F
Minatomirai 2-3-5, Nishi-ku, Yokohama, Kanagawa 220-6208
Starting date
of operation
April 1999
Speciality
iLASIK®, Intra LASIK, PRK, Monovision LASIK, Phakic IOL (ICL), Cataract surgery (with multilfocal IOL), Keratoconus treatment (Intracorneal Ring Segments, corneal cross-linking, corneal transplant)
Toll-free
Tel:0120-17-4455
Minatomirai Eye Clinic is only deals with refractive surgery (LASIK, ICL/Phakic-IOL), Cataract surgery with multifocal-IOL and Keratoconus treatment. For other inquiries, please contact with Queen's Eye Clinic located on 4th floor of the Queen's Tower C. There is an ophthalmology department of the same medical corporation that can provide general eye care.
Queen's Eye Clinic
Mon-Fri 10:00-12:30, 15:00-17:30
tel 045-682-4455
http://www.queens-eye.jp (Japanese site only)

Open Time
Sun

Mon

Tue

Wed

Thu

Fri

Sat

10:00 - 12:00

×

Exam

×

Exam

Exam

Exam
Surgery

13:00 - 18:00

×

Exam

×

Exam

Exam

Exam
Surgery
*Saturday surgery is once every few months.
Our clinic sees patients only by appointment.
Please call or email us to schedule your examination in advance.
Clinic Photos
Map
View Lager Map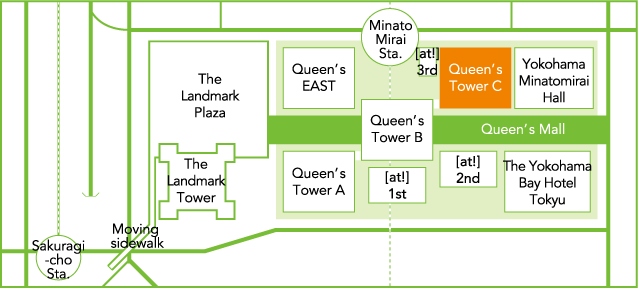 Access by train

from Minatomirai station (Minatomirai Line): Approximately 1 minute walk
1. Please go out of the Minatomirai station "Landmark tower Queens square district ticket gate".
2. Please turn left at the first corner and take the long red escalator from B3 to 1F.
3. You'll see a Queen'sTowerC entrance diagonally in front on your left.
4. Please take the elevator to the eight floor.
from Sakuragicho Station (JR or Subway): Approximately 15 minutes walk
Go out the ticket gate and walk leftward to take the moving walkway. Walk through Landmark Plaza.
Doctor Profile
Hiroyuki Arai, M.D., Ph.D.
earned his medical degree from National Defense Medical College. He is the Director of Queen's Eye Clinic. He was trained the LASIK surgery at Sinskey Eye Institute in Santa Monica. He is one of the most experienced surgeon of Phakic IOL, ICRS, and Multifocul IOL surgeries in Japan. He has performed over 5,000 LASIK and about 1,000 Phakic IOL procedures.

Keiko Sakatani, M.D.
earned her medical degree from Tottori University and worked as an Ophthalmologist at Tottori University Hospital and Tottori Red Cross Hospital. She had been a visiting clinical scientist collaborating on the Refractive Surgery Service at the Wilmer Eye Institute of the Johns Hopkins University School of Medicine from January 2002 through March 2004.