Cataract
What is a Cataract?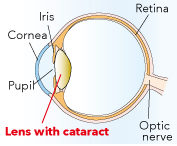 A cataract is a clouding of the eye's natural lens, which lies behind the iris and the pupil. When you are young, this lens is crystal clear, but as we get older, the lens tends to become cloudier. In the initial stage, this lens opacity creates the scattered reflection of light, leading to glare even in patients who otherwise have good visual acuity. As the opacity increases, more light and images are blocked from reaching the retina, resulting in failing vision. This affects daily life and requires the surgical removal of the cataract. If untreated, cataracts are potentially blinding.

Cataracts develop from a variety of reasons - the most frequent one certainly is the natural aging process of the ocular lens: lens metabolism slows down, the concentration of water in the lens drops; the lens becomes harder and less elastic. Over the years, exposure to sunlight also results in the deposit of yellow-brown substances and clouding of the lens. In this case, one talks about cataract due to advanced age appearing most of the time at the age of 60 or later.
How treating Cataract?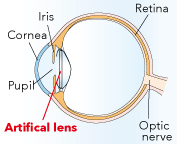 It is not possible to heal cataract with drugs or alternative treatment methods. During cataract surgery, doctor will remove the cloudy natural lens of your eye and replace it with an intraocular lens (IOL). Much of the thin clear membrane that surrounds the natural lens (called the lens capsule) is left intact during surgery and the IOL usually is implanted within it. The IOL is made of plastic, silicone or acrylic. The IOL is folded and inserted through the micro- incision, it unfolds in the eye into its permanent position and normally your vision after cataract surgery should be very clear. This surgical method is so gentle that usually no stitches are required: the small incision is selfsealing - without scar formation. Millions of people undergo this vision-improving procedure every year world wide. Cataract surgeries count among the most frequent operations. Surgicary removing the cloudy lens is a common, conservative and careful routine intervention with almost no complications. It is performed usually using a local anaesthetic and the patient gets an ambulatory treatment.
Kinds of IOLs
Multifocal IOLs: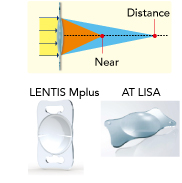 Multifocal IOLs are Intraocular Lenses which present two focuses, one for seeing in the distance and another with an addition for near vision. They are designed based on a cutting-edge optical theory for distributing light in such a manner that provides multiple points of focus, thereby eliminating the dependence on eyeglasses in daily life. However, for very far away landscapes or fine print, eyeglasses may still be needed.
Advantages
In daily life, after undergoing surgery patients will be able to see both far and near to some extent.
Disadvantages
Halos around lights at night time. Some patients experience mild glare.
The reading distance is typically at a fairly fixed distance from your eyes, the lenses have been designed to have a fixed reading distance of approximately 30 - 40 centimeters from your eyes. so you will need to get used to moving reading material to that position or adjusting your head.
Slightly poorer medium-distance vision
Typically experienced as a loss of some clarity in low light situations, such as reading a menu in a dark restaurant.
It may take about three months to adapt and become accustomed to seeing through the new implants.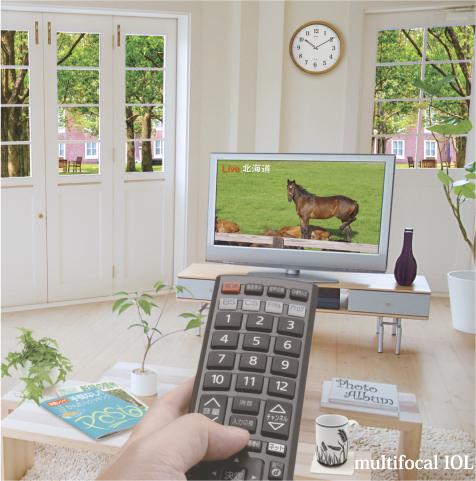 ---
monofocal IOLs:


Monofocal IOLs are lenses which, as their name suggests, have a single focus point. They offer no focal adjustment function. Patients implanted with monofocal IOLs have the same presbyopic condition as before the surgery. If the implanted lens is set for distance vision, then near vision suffers. Conversely, if the lens' focus point is set for near distances to allow reading books or computer screens, a patient will have trouble watching TV or recognizing acquaintances when passing them on the street. Therefore, eyeglasses will be required after surgery.
Advantages
Clear distance vision, no significant halos or glare.
Disadvantages
If you choose the IOL for distance vision correction, you will need reading glasses to improve your near vision. Conversely, if you choose an IOL for near vision correction, you will need glasses to improve your distance vision.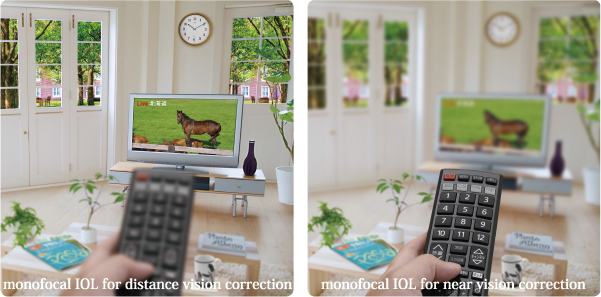 Cataract surgery procedure
Cataract surgery is performed on an outpatient at Minatomirai Eye Clinic and typically takes 25 minutes to complete. But please arrive an hour and a half before the scheduled time for surgery and expect to be at the clinic for about 2 hours and a half.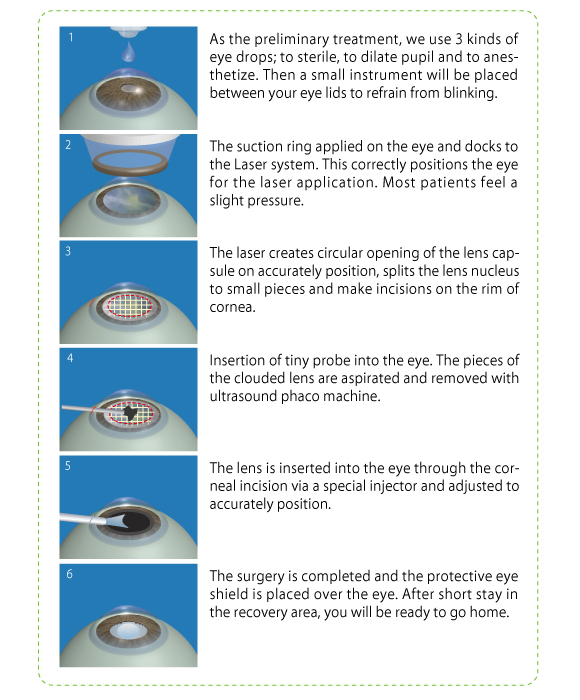 The femtosecond-laser assisted cataract surgery
In traditional cataract surgery, cuts corneal incisions and anterior capsulotomy are performed manually with a surgical instrument. The goal of these procedures is to make high-precision corneal incisions as circular as possible at the right place with the perfect size.
Now we can provide you the femtosecond-laser assisted cataract surgery by using the CATALYS® System. It contributes us great advantages to cataract surgery. The pinpointed laser impulses help achieve the desired size, form and position even in corneal incision and anterior capsulotomy. It helps enable to accurately position the intraocular lens. Also the laser splits the clouded lens into small pieces and it help to remove cataracts with less ultrasound energy in comparison of the traditional method. It helps good tissue preservation and might result in quicker visual recovery. We can also provide the astigmatic keratotomy using by femtosecond-laser simultaneously cataract surgery.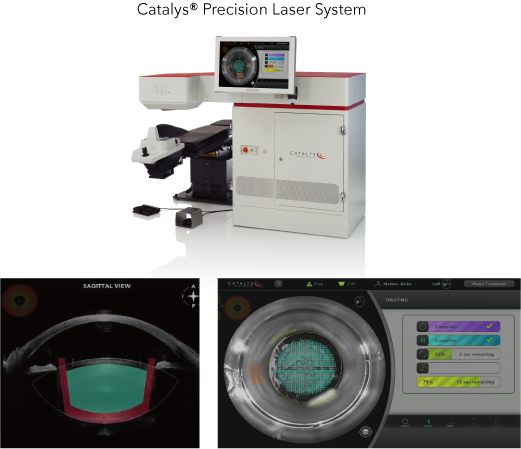 ORA™ & VERION™
Patients will receive twice detailed eye exam preoperatively, including the important exam to determine IOL power. For an accurate IOL power calculation, three parameters are crucial in order to predict the patient's refractive outcome correctly; the axial length of the eye, the refractive power of the cornea and the predicted IOL position after surgery.
To acquire better uncorrected visual acuity, it is important for reducing the refractive error. But unfortunately, there are multiple sources of potential error that are inherent in cataract surgery.
Now we verify the optimal IOL power and IOL positioning during the surgery, using by the VERION™ Image Guided System that can capture the feature of eye surface precisely, the ORA™ system that can measure the refraction throughout the procedure and suggest IOL power and alignment. These systems help minimize potential sources of refractive error. We are aiming to improve the precision of cataract refractive surgery and optimize visual outcomes.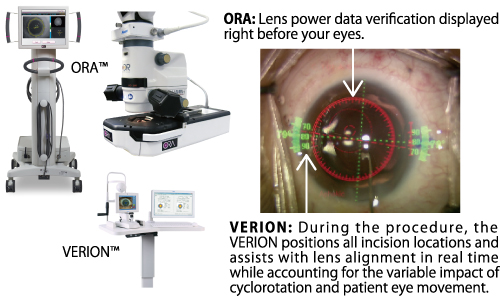 Prices
Cataract surgery with Multifocal IOL

Both eyes

1,640,000 JPY

One eye

820,000 JPY
Preoperative
examination

Free

Postoperative
examination

1,200 - 3,000 JPY

(not including add eye drops)